Use of autogenous tooth bone graft with dental implants
Amirhosein Pakravan

Department of oral and Maxillofacial Surgery, Faculty of Dentistry, Mazandaran University of Medical Sciences, Sari, Iran.

Maedeh Yousefnezhad

Student of Dentistry, Faculty of Dentistry, Student Research Committee, Mazandaran University of Medical Sciences, Sari, Iran.

Amin Heydarian

Student of Dentistry, Faculty of Dentistry, Student Research Committee, Mazandaran University of Medical Sciences, Sari, Iran.
Keywords:
Bone graft, Socket preservation, Autograft, Tooth, Implant.
Abstract
Bone grafting is an appropriate solution for treatment of some cases of bone defect. Till now, different method and biomaterial has been described for bone grafting. According to structural similarities between bone tissue and tooth structure and some successful studies on application of autogenous bone graft materials, we decided to use this biomaterial to treat a bone defect resulting from tooth extraction. In this case, a healthy 36-year-old man visited us for extraction of the left mandibular first molar. In order to preserve the tooth socket, we used the patient's own extracted teeth instead of using routine bone graft materials. The tooth powder processed by the device called the BONMAKER and placed in the socket. After 4 mouths, the radiographic evaluation showed a good bone density. Fixture placement and prosthetic restoration were done and the patient's 5-year follow-up showed good aesthetic, excellent osseointegration and little to no bone resorption, indicating the reliability of this autogenous graft material.
References
[1] Catanzaro-Guimarães S, Catanzaro BP, Garcia GR,Alle N. Osteogenic potential of autogenic demineralized dentin implanted in bony defects in dogs.International journal of oral and maxillofacial surgery. 1986; 15(2):160-9.
[2] Van Heest A, Swiontkowski M. Bone-graft substitutes.The Lancet. 353:S28-S9.
[3] Cypher TJ, Grossman JP. Biological principles ofbone graft healing. The Journal of foot and ankle surgery. 1996; 35(5):413-7.
[4] Costantino PD, Friedman CD. Synthetic bone graft substitutes. Otolaryngologic Clinics of North America. 1994; 27(5):1037-74.
[5] Urist MR, Mc LEAN FC. Osteogenetic potency and new-bone formation by induction in transplants to the anterior chamber of the eye. JBJS. 1952; 34(2):443-75.
[6] Levander G. A study of bone regeneration. Surg Gynecol Obstet. 1938; 67(6):705-14.
[7] Huggins C. The formation of bone under the influence of epithelium of the urinary tract. Archives of Surgery. 1931; 22(3):377-408.
[8] Branemark P. Osseointegrated implants in the treatment of the edentulous jaw. Experience from a 10-year period. Scand J Plast Reconstr Surg.1977; 11(16):1-132.
[9] Albrektsson T, Brånemark P-I, Hansson H-A,Lindström J. Osseointegrated titanium implants:requirements for ensuring a long-lasting, direct bone-to-implant anchorage in man. Acta OrthopaedicaScandinavica. 1981; 52(2):155-70.
[10] Javed F, Ahmed HB, Crespi R, Romanos GE. Role of primary stability for successful osseointegration of dental implants: Factors of influence and evaluation.Interventional Medicine & Applied Science.2013; 5(4):162-7.
[11] Mc Allister BS, Haghighat K. Bone augmentation techniques. Journal of periodontology. 2007;78(3):377-96.
[12] Jensen SS, Terheyden H. Bone augmentation procedures in localized defects in the alveolar ridgeclinical results with different bone grafts andbone-substitute materials. International Journal ofOral & Maxillofacial Implants. 2009; 24.
[13] Esposito M, Grusovin MG, Felice P, Karatzopoulos G, Worthington HV, Coulthard P. Interventions for replacing missing teeth: horizontal and vertical bone augmentation techniques for dental implant treatment. The Cochrane Library. 2009.
[14] Rocchietta I, Fontana F, Simion M. Clinical outcomes of vertical bone augmentation to enable dental implant placement: a systematic review. Journal of clinical periodontology. 2008;35(s8):203-15.
[15] Pellegrini G, Pagni G, Rasperini G. Surgical approaches based on biological objectives: GTR versus GBR techniques. International journal of dentistry. 2013; 2013.
[16] Lee D, Glimcher M. Three-dimensional spatialrelationship between the collagen fibrils and the inorganic calcium phosphate crystals of pickerel (Americanus americanus) and herring (Clupea harengus) bone. Journal of molecular biology.1991; 217(3):487-501.
[17] Lee S-H. Low Crystalline Hydroxyl Carbonale Apatite. The journal of the Korean dental association.2006; 44.
[18] SN. B. Orban's oral histology and embryology. 9ed. Saint Louis: Mosby Co.; 1980.
[19] BM. M. Oral biochemistry. Seoul: Daehan NaraePub Co; 2007.
[20] Nanci A. Enamel: composition, formation, and structure 2008. 141-90 p.
[21] Gomes MF, da Silva dos Anjos MJ, de Oliveira Nogueira T, Guimarães SAC. Autogenous demineralized dentin matrix for tissue engineering applications:radiographic and histomorphometric studies. International Journal of Oral & MaxillofacialImplants. 2002; 17(4).
[22] Gomes MF, Da Silva Dos Anjos MJ, de OliveiraNogueira T, Guimarães SAC. Histologic evaluation of the osteoinductive property of autogenous demineralized dentin matrix on surgical bone defects in rabbit skulls using human amniotic membranefor guided bone regeneration. International Journal of Oral & Maxillofacial Implants. 2001;16(4).
[23] Gao Y, Yang L, Yamaguchi A. Immunohistochemical demonstration of bone morphogenetic protein in odontogenic tumors. Journal of oral pathology & medicine. 1997; 26(6):273-7.
[24] Raval P, Hsu H, Schneider D, Sarras Jr M, Masuhara K, Bonewald L, et al. Expression of bone morphogenetic proteins by osteoinductive and non-osteoinductive human osteosarcoma cells. Journal of dental research. 1996; 75(7):1518-23.
[25] Rosen V TR. The Cellular and Molecular Basis of Bone Formation and Repair. Heidelberg: Springer;1995.
[26] Kim Y-K, Kim S-G, Oh J-S, Jin S-C, Son J-S,Kim S-Y, et al. Analysis of the inorganic component
of autogenous tooth bone graft material.Journal of nanoscience and nanotechnology.2011;11(8):7442-5.
[27] Kim Y-K, Kim S-G, Byeon J-H, Lee H-J, Um I-U,Lim S-C, et al. Development of a novel bone grafting material using autogenous teeth. Oral Surgery,Oral Medicine, Oral Pathology, Oral Radiology and Endodontics. 2010; 109(4):496-503
[28] Kim Y-K. Clinical application and classification of bone graft material according to component. The journal of the Korean dental association. 2010; 48.
[29] Jeong H-R, Hwang J-H, Lee J-K. Effectiveness of autogenous tooth bone used as a graft material for regeneration of bone in miniature pig. Journal of the Korean Association of Oral and Maxillofacial Surgeons. 2011; 37(5):375-9.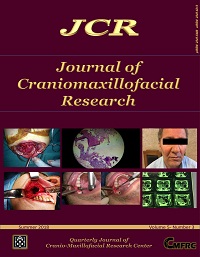 How to Cite
1.
Pakravan A, Yousefnezhad M, Heydarian A, Bamdadian T. Use of autogenous tooth bone graft with dental implants. J Craniomaxillofac Res. 5(3):125-130.
Section
Original Article(s)