A report of ameloblastic fibro-odontoma in the 29 month old girl: A case report
Hasan Mirmohamad Sadeghi

Department of Oral and Maxillofacial Surgery, Shahid Beheshti University of Medical Sciences, Tehran, Iran.

Masoume Fayazi Boroujeni

Department of Oral and Maxillofacial Pathology, Shahrekord University of Medical Sciences, Shahrekord, Iran.
Keywords:
Ameloblastic fibro-odontoma, Odontogenic tumours, Benign jaws lesions.
Abstract
Ameloblastic fibro-odontoma (AFO) is an uncommon benign mixed odontogenic tumor. AFO presents as a painless swelling in the posterior of mandible or maxilla that radiographically shows a well-defined radiolucent area containing various amounts of radiopaque deposits. Most cases occur before 20 years of age, with the average age of diagnoses being 9 years. This case report describes AFO affecting anterior mandible in the 29 month old girl. The lesion was surgically excised, and no recurrence was observed on 2 month follow-up.
References
[1] Buchener A, Kaffe I, Vered M. Clinical and radiological profile of ameloblastic fibro-odontoma:an update on an uncommon odontogenic tumor based on a critical analysis of 114 cases, Head andneck pathology 2013; 7:54 -63.
[2] Raichart P. A., Philipsen H. P., Odontogenic tumors and allied lesions, quintessence publication,2004.
[3] De Riu G., Meloni S., Contini M., Tullio A., Ameloblastic fibro-odontoma. Case report and reviewof the literature, Journal of CranioMaxilloFacial Surgery (2010) 38, 141e144.
[4] Oghli A.A., Scuto I., Ziegler C., Flechtenmacher C., Hofele C. A, large ameloblastic fibro-odontomaof the right mandible, Med Oral Patol Oral CirBucal. 2007; 12(1):E34–7.
[5] Pontes HA, Pontes FS, Lameira AG, Salim RA, Carvalho PL, Guimara˜es DM, Pinto DD Jr. Report of four cases of ameloblastic fibro-odontomain mandible and discussion of the literature about the treatment. J Craniomaxillofac Surg. 2012; 40(2):e59–63.
[6] De Riu G, Meloni SM, Contini M, Tullio A., Ameloblastic fibroodontoma. Case report and review of the literature, J Craniomaxillofac Surg. 2010; 38(2):141–4.
[7] Surej Kumar LK, Manuel S, Khalam SA, VenugopalK, Sivakumar TT, Issac J., Ameloblastic fibro-odontoma. Int J Surg Case Rep. 2014; 5:1142– 4.
[8] Tsuji K, Yoshida H, Watanabe S, Yamamoto E, YamadaK, Tominaga K, et al. A case of ameloblastic fibro-odontoma accompanied with a number ofimpacted teeth. Oral Maxillof Surg Med J. 2015;27(3):366–8.
[9] Manor E., Kan E., Bodner L.. Case Report Ameloblastic Fibroodontoma of the Mandible with Normal Karyotype in a Pediatric Patient Case Reports in Dentistry Volume 2012, Article ID 969687, 4pages doi:10.1155/2012/969687.
[10] Santana Santos Th., Carvalho R.W.F., Avelar R.L., Silva E.D.O., Frota R., Anjos E.D., Ameloblastic Fibro-Odontoma in Children: Report of 2 Cases. Journal of Dentistry for Children-78:3, 2011,
[11] Flaitz C.M., HicksJ., "Delayed tooth eruption associated with an ameloblastic fibro-odontoma," PediatricDentistry, vol. 23, no. 3, pp. 253–254, 2001.
[12]Wewel J, Narayana N. Ameloblastic fibro-odontoma of the anterior mandible in a 22-month-old boy. Indian J Dent Res. 2010;21:618–20
[13] Brenda L, Nelson, Lester D. R. Compound Odontoma.Head Neck Pathol. 2010 Dec; 4(4): 290–291.
[14] Lang M.J. , Wang Y.P. , Lin H.P., Chen H.M., Kuo Y.Sh., Adenomatoid odontogenic tumord Report of a posterior mandibular case with the presence of ghost cells, Journal of Dental Sciences (2015)10, 216e222.
[15] Shivakumar B.N., Reddy S, Nayak B, Rathore N, Ghost cell odontogenic cyst: A rare case with literature review, Asian Journal of Medical Sciences| Jul-Aug 2015 | Vol 6 | Issue 4.
[16] Kirjavainen A., Tuovinen V., Sándor G. K., Large ameloblastic fibro-odontoma in a 7-year-old girl with analysis of 108 cases. An Maxillofac Surg.2016 Jan-Jun; 6(1): 15–20.
[17]Sassi L.M., Stramandinoli R.T., Dissenha J. L., Zanferrari F. L., Schussel J. L., Large ameloblastic fibro-odontoma in a 3 year-old child: case report,RSBO. 2011 Jan-Mar; 8(1):114-6.
[18]Ghalaut P., Wadhawan V., Kapoor P., AmeloblasticFibro-Odontome: A case report with review of literature, Indian Journal of Basic and AppliedMedical Research; September 2014: Vol.-3, Issue-4, P. 109- 112
[19] Slootweg PJ. An analysis of the interrelationship of the mixed odontogenic tumorsameloblastic fibroma,ameloblastic fibro-odontoma, and the odontomas.Oral Surg Oral Med Oral Pathol 1981;51(3):266-76.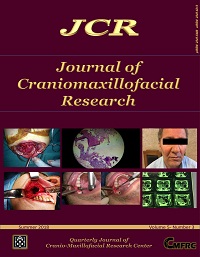 How to Cite
1.
Sadeghi HM, Fayazi Boroujeni M, Poorian B. A report of ameloblastic fibro-odontoma in the 29 month old girl: A case report. J Craniomaxillofac Res. 5(3):131-135.