Vol 5, No 2 (Spring 2018)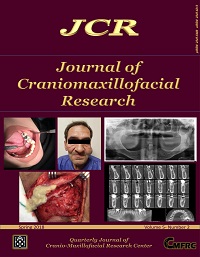 Review Article(s)
Background and Objectives: Methamphetamine is a stimulant drug with stimulatory effects on the central  nervous system. It also negatively affects the oral and dental health. This narrative review aims to review the oral and dental complications caused by methamphetamine use. Materials and Methods: In this narrative review, an electronic search of the literature was carried out in  Google Scholar, PubMed and SID databases for original articles published from 2000 to 2017 using the keywords "meth", "mouth", "methamphetamine", "dental caries", "oral health" and "dental problem". Results: The most prevalent complications caused by methamphetamine use were xerostomia (94%), bad taste  in the mouth (91%), extensive caries (89%), facial muscle stiffness (73%), dental esthetic problems (68%) and increased acidity of the saliva (68%). Temporomandibular joint problem had the lowest prevalence (13%). Conclusion: Long-term methamphetamine use causes adverse oral and dental changes. By having adequate knowledge about the prevalence and physiopathology of these complications, clinicians can promote oral and  dental health and decrease treatment costs.
Original Article(s)
Background and Objectives: Proper anesthesia and pain management during treatment  are of the most important concerns in dentistry for people of all ages, especially children. This study compared the success rate of lidocaine block with articaine buccal infiltration during anesthesia of the primary mandibular second molars in children aged 8-10 years. Materials and Methods: The present clinical trial was conducted on 20 children aged 8-10 who referred to the Department of Pediatrics of the Faculty of Dentistry at Shahid Sadoughi University of Medical Sciences in Yazd (Iran) and needed to be treated with pulpotomy on both primary mandibular second molars. The patients were randomly divided into two groups. At the first session, a group received articaine buccal infiltration and the other group experienced inferior alveolar nerve block. At the next visit, this trend was reversed. Pain during pulpotomy and all vital signs were measured before and after each injection. For data analysis, by SPSS17 software using the Mann-Whitney and Wilcoxon tests were used. Results: According to the results, the pain during pulpotomy was significantly lower in the articaine group (P-value>0/001). Pulse and breathing changes were statistically significant before and after both injections (P-Value>0/001). Conclusion: The articaine buccal infiltration can be employed for the pulpotomy treatment in the primary mandibular second molars in children aged 8-10 years.

Background: Trigeminal neuralgia is one of the most painful conditions in the head and face. This study was carried out to evaluate the effects and results of RF therapy on patients with trigeminal neuralgia who referred  to Amir-alam Hospital.  Materials and Methods: In this descriptive study, 84 patients with trigeminal neuralgia pain were studied. Patients were diagnosed based on their medical histories, physical examination, and paraclinical tests. Patients are admitted according to internationally accepted criteria such as the International Headache Society (IHS). The patients responded to the questions in the questionnaire before and after the surgery. In this questionnaire, the pain level of patients is assessed by the Visual Analogue Pain Scale (VAS). Results: The mean pain score before treatment was 7.87, which decreased to 4.83 after the treatment. According to the results obtained in this study, 18 patients (21.4%) felt 4 levels of decrease in pain, as the predominant level of relief. Also, 15 patients (17.9%) did not feel any subtraction of pain after the treatment. Of  the 84 patients, only 1 patient experienced the reduction of pain as 9 levels of VAS, after the treatment. There was a significant relationship (P=0.000) between the pain severity and the reduction in the amount of pain after the RF in respect to the amount before the treatment. Also, in the regression equation obtained from the study  of the effects and role of patients' age, gender, as well as the history of pain in patients before the RF treatment, only the gender of the patients had a significant relationship with the amount of pain reduction and comparison of its pre and post treatment. (P=0.054) and (B= -0.886) and (β= -0.216). Also, there was no significant relationship between pain intensity (P=0.761), age of patients (P=0.829), or history of pain (P=0.139) with pain reduction and comparison of pain intensity before and after RF treatment. During the  treatment of RF, very few side effects was reported. Conclusion: According to the results, RF treatment is an effective method for reducing pain in both short-term and long-term pain, in patients with trigeminal neuralgia. It is suggested that in patients suffering from the pain resulting caused by trigeminal neuralgia, due to drug resistance or who are intolerance to possible adverse effects, or in patients with lack of response from drug therapy, the therapeutic approach of RF is a  valuable way for pain relief.

Objective: Oral squamous cell carcinoma (SCC) is an aggressive neoplasm with serious morbidity and mortality, which typically spreads through local invasive growth. A key approach to this tumor would be to detect potentially malignant lesions at their early stages. The transcription factor, Sex determining region Y-box  2 (SOX2) is an essential regulator of pluripotent stem cells and promotes developmentand maintenance  of squamous epithelia. Materials and Methods: We retrospectively reviewed the charts of 24 samples of SCC, oral epithelial dysplasia and control group, then immunohistochemical staining was performed to detect SOX2 expression. Results: Comparisons between SCC and oral epithelial dysplasia group did not reveal any significant difference (p=0.496); also values of control and oral epithelial dysplasia group were statically different (p<0.001). Similarly, a significant difference was observed between the values of SCC and controls' (p<0.001). Conclusion: In conclusion, SOX2 overexpression is seen in oral dysplasia and SCC and their detection in early  stages could be crucial for early tumor identification.
Case Report(s)
The Odontogenic Keratocyst (OKC) today is called Keratocystic Odontogenic Tumor (KCOT) by the WHO, consider as a benign intraosseous developmental odontogenic tumor and may be presented in unicystic or multicystic variants. The tumor is surrounded by stratified squamous parakeratinized or orthokeratinized epithelium and has invasive or infiltrative behavior. It happens in the second and third decades of life, and often is more prevalent among males. In this case report we describes an unusual case of OKC in the condylar region and its infiltration into parotid gland which is very rare and minimal clinical presentation indicative of a tumor.

Osteoma is a benign osteogenic neoplasm composed of mature compact or cancellous bone and classified as central, peripheral or extra-skeletal. Peripheral type of osteoma is rare. The maxillary sinuses are the most common sites of involvement. It is rare in jaws. Peripheral ossifying fibroma is a reactive lesion of oral tissues, associated with local factors such as trauma or irritation factors. In this paper, we presented the first case of solitary peripheral osteoma associated with peripheral ossifying fibroma. The lesion was located in the lingual  surface of the left posterior area of mandible in a 32-year-old woman. The lesion was removed surgically, and no recurrence has been observed after six months follow up.

Dislocation of the mandibular condyle has been described as a clinical condition when the condyle  head is displaced out of the glenoid fossa but still remains within the capsule of the joint. This dislocation of mandibular condyle can occur in anterior, posterior, lateral and superior direction.  Here, we report a case of superolateral dislocation of bilateral condyles associated with symphysisfracture. The purpose of this report is to present this dislocation and its clinical management.